Monday, April 5, 2010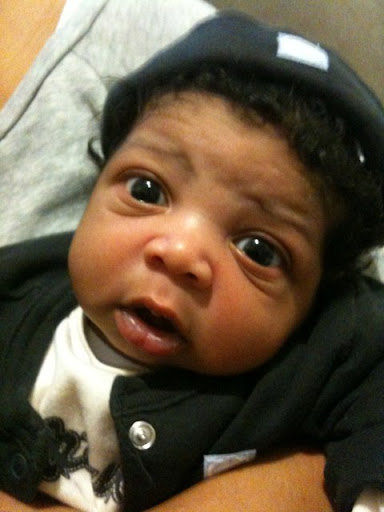 GeoTagged, [N40.67951, E73.84355]
"You came from my balls!!!"
-Dave Chappelle
My two young princes, Lil Charnier and Baby Chase!!!
Viva Los Treps!!!
Sunday, April 4, 2010
Something that I never do, that I am going to start doin more often; calling in favors. One day I saw The Fader was hosting a show with Theophilus London, Ninjasonik and The Very Best. I contacted my good friend Graham at The Fader and asked him to do me a solid. He did more than do me a solid, he got me press passes for the show and put me in contact with everyone I needed to talk to.
The day of the show was rained the fuck out. I was sure the event would be affected...I was wrong. The American Museum of Natural History was sold out and people were in front the building asking for extra tix. I made my way inside after the usual delay, "...No, you need to go to the front desk...I'm sorry sir, I don't see ur name on Kim's list...Max, sorry to call so late but people are giving me a problem in the front...I'm sorry sir, I didn't know you were on the press release...sorry for the delay."
My guys NinjaSonik were onstage running through their high energy set with their always present brand of skinny jeaned "I-don't-give-a-fuckness". I really like to see them perform for their sheer commitment to "drinking and drugging and never growing up"! The guys are really nicer than you think too!!! After they started performing "Daylight" acapella (soundman cut they shit cuz they was running into Theophilus set) the beat miraculously started blarring out the speakers and Rev. McFly crowd-surfed (has to be the first time crowd-surfing was attempted in The AMNH lol). Ninja F*ckin Sonik, Sonik F*ckin Ninja!!!
I did some crowd watching between sets and saw some familiar faces. Tony Peralta, one of my fellow Sound of Art bethren was in the house! Tony is responsible for some of the craziest silk-screens you have ever seen (check his work out at: www.theperaltaproject.com).
I also saw a pretty young lady with a beautiful mane of raven black hair. I took a couple pics and soon noticed she was not just beautiful, but the girl could saaang...she was one of The Lovers.
Theophilus greeted the crowd next and he did not dissapoint. For those who are familiar with this blog, I shouted TL out last year because of his two great mixtapes (get em, if you don't have em) and a show I saw. TL brought out his band The Lovers to enhance the show along with Dev Hynes (who is a multi-instrumentalist, singer and song-writer).
Theophilus danced and sang familiar hits like "Hum-Drum Town" and his crowd pleasing rendition of Whitney Houston's smash "I Will Always Love You". He finished with a new cut off his forth-coming mixtape entitled "I Want You", a remake of the classic Marvin Gaye track of the same name. If the song is any indication of what the new mixtape has to offer, we can rest assured that Theophilus London will soon be the next cross-over sensation from the borough of Brooklyn.
Viva Los Treps!!!